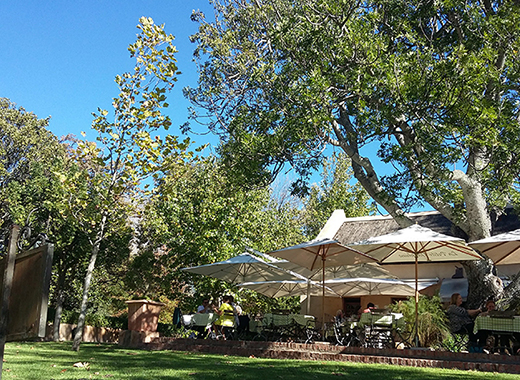 Paarl – Franschoek – Paarl 60 km.
Franschhoek , located in a valley surrounded by mountains on three sides. It is the most fashionable or trendy of the three wine towns surrounding it (Paarl, Stellenbosch and Franschhoek) considering within South Africa " foodies" as a true gem, there are more award winning restaurants here than even in some of our largest cities , and definitely worth a visit.
Take the first exit (59) on Route N1 towards Cape Town and follow R301 and the R45 to Franschhoek. The road will take you past the golf courses Boschenmeer and Paarl Valley. About14 km from Paarl on the right hand side of the road, you will find the Drakenstein Prison from which Nelson Mandela was released in1990. We recommend that you make a short stop here. Further on, towards Franschhoek, you will pass a lot of vineyards – among others, La Motte and Leopard's Leap. Follow the main street into the town and on your left, you should be able to find a parking spot.
The Huguenots who fled France, founded Franschhoek in 1688 , thus the name "the French corner". Here you will find many historic buildings, mostly Cape Dutch architecture, galleries, and shops. At the end of the main street one can find the Huguenot Monument and a museum in memory of the founders of the city.
To avoid driving back the same way to Paarl, we recommend route R45 (and do not take a turn at R301). You will pass yet more vineyards – including Plaisier de Merle and Vrede en Lust. The wine tasting at Vrede en Lust is one of the most pompous in this area, they also have a small restaurant from which you can buy cheese and bread to bring back home.R45 continues through Paarl (Main Road) but before that, you can drive onto N1 and take exit 62A which will bring you back to Wildepaardejacht.
We recommend you make your reservations for restaurants in Franschhoek before your arrival to avoid disappointment , some are fully booked weeks in advance.
Paarl is the town closest to the farm, here you will also find a good mix of historic buildings, many restaurants which we will gladly recommend, a shopping mall and wine farms.